HART Energy ESG Editorial: Fueling Tomorrow's World Today
Redefine your standard for ESG with Nacelle.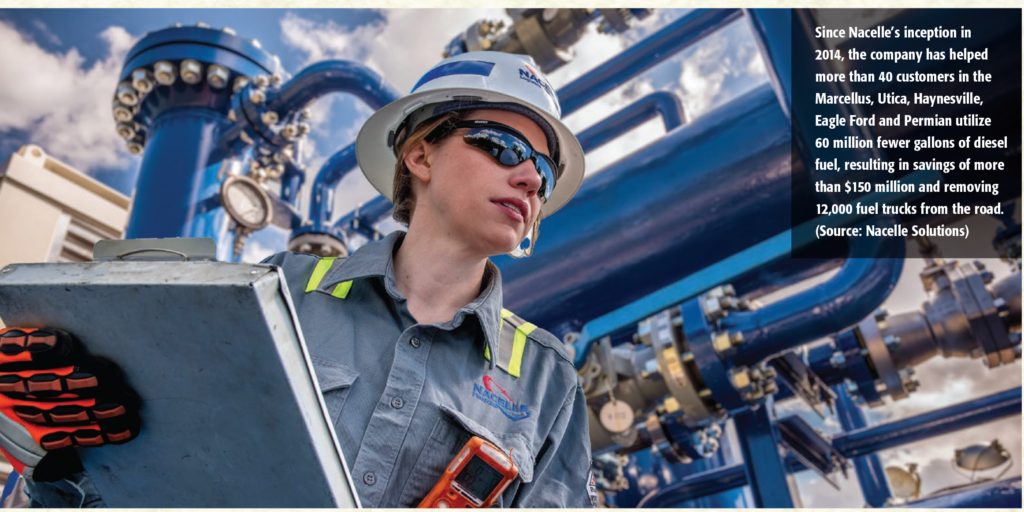 Nacelle was founded seven years ago to bring a cost-effective and environmentally friendly fuel alternative to the field operations of oil and gas customers. The company's founders developed proprietary and patented mobile gas conditioning that enables the use of field gas to power drilling and completions operations through delivering a consistent conditioned gas to the engines powering these operations.
Nacelle's technology and service offering initially focused on high BTU gas and has expanded in subsequent years as the company has listened to the needs of its customers, learned from its years of experience, and continuously improved its value proposition. Today, the company provides a full suite of products that work in all gas types, allowing Nacelle to offer a broad range of clean fuel options tailored to its customer's evolving needs.
Nacelle's solutions provide meaningful benefits to both its customers and the communities in which they operate. The company's mobile conditioning assets save customers money on operating costs versus traditional diesel fuel (50% on bi-fuel fleets and 100% on e-fleets) and CNG across multiple geographies and gas environments. Additionally, the reduction in consumption of diesel fuel and CNG means fewer fuel trucks on the road to and from various sites, improved job site safety, and a reduced emissions profile.
Since the company's inception in 2014, Nacelle has helped more than 40 customers in the Marcellus, Utica, Haynesville, Eagle Ford and Permian (both Midland and Delaware basins)
utilize 60 million fewer gallons of diesel fuel, resulting in savings of more than $150 million and removing 12,000 fuel trucks from the road.
Nacelle's team has years of experience in the oil and gas industry. Its team of engineers and techs have spent the last several years designing, maintaining, and customizing field gas solutions. Nacelle's gas conditioning solutions have helped numerous customers reduce operating costs and achieve important ESG goals, and it sees numerous attractive opportunities to continuously expand its portfolio and its relevance to customers. Nacelle firmly believes it is well-positioned to be a trusted partner to its expanding customer base as they transition to field gas as a viable, cost-effective fuel source continues in the years ahead.